This past Thursday, June 6th, we lost yet another of the great ones, the Night Tripper himself, Dr. John.

Born and bred in New Orleans, Malcolm John Rebennack, aka Dr. John (or just 'Mac' to his friends) packed a lot of living into his 77 years on this earth. Six time Grammy winner, Rebennack's career spanned six decades and over twenty albums. He was inducted into the Rock and Roll Hall of Fame in 2011.
Our dear friend, Jeff Healey Band bassist, Joe Rockman, has popped in to share some of his memories of the band's first encounter with Dr. John back in 1986…
***
"Firstly, I want to send my heartfelt condolences to Dr. John's family and friends in this difficult time…

He was a gentleman. Whenever he performed with Jeff, you could see Mac truly loved him as a performer and as a person.

His history with Jeff began very early in the JHB's career. Circa 1986, my childhood friend Elliott Lefko, who managed my 1st band, was an alternative Concert Promoter in Toronto.

Soon after the JHB was born, I asked him if he could help us out with any gigs. He immediately mentioned that he was promoting Dr John's concert at the "Diamond" Concert club (now, the "Phoenix") and he suggested we could be Dr. John's backing band. (At the time, Dr. John normally traveled alone and used local talent as back up wherever he toured, similar to Chuck Berry. )

I jumped at the chance, because it would be a challenge. At the time, we were basically doing our own trio gigs and the odd jam but never something like this, and it would offer great exposure to Mac's audience. It would also expose us to Toronto's music community, including the blues scene and beyond.

I remember Elliott received flak from Toronto's blues community because normally Dr. John would perform in town with the usual suspects on the scene.

He knew pairing Mac with our band could be risky because the JHB was new and unproven for something like this, but it was exactly the kind of thing that would appeal to him as an alternative promoter. There was also an increasing buzz locally on Jeff and I felt we could maximize that because there would likely be some decent press at the show.

We were also eager to separate ourselves from the local blues community because we didn't want to be perceived as a by-the-numbers blues band. Our early repertoire was eclectic with over 200 songs which were all over the map, including Rock, Blues, Folk, and Psychedelia. We also felt that staying in the grooves would limit our potential audience because Jeff was proficient in so many styles.

Playing with an established artist like Mac in front of 700 people who were true and discerning music fans was a challenge for the band…

I pulled drummer Tom Stephen aside and told him to just do what he normally does at a jam, stick close to me. I would keep a close eye on Mac and Jeff for cues, and then cue Tom.

Elliott forwarded a tape of songs Mac wanted to do, and the JHB rehearsed the tunes, which was something we rarely did for any show.

I had heard rumors that Mac was rather grouchy and dismissive of local backing bands as he toured, and wouldn't engage with them much on stage personally , or even with eye contact, so I didn't know what to expect. That put me on edge too.
During the 1st song of the show, when Jeff launched into a solo, Mac looked up from the piano and watched him. A small smile gradually turned into a huge grin lighting up his face, and I breathed a sigh of relief. I knew we would be ok from that moment on.

I recall that show fondly, as it was a defining moment for the Band as a unit, and it also launched a lifelong friendship with a great timeless Artist.

Mac's death is a tragic loss to the world of music. We've lost a good friend and early supporter of Jeff. "
***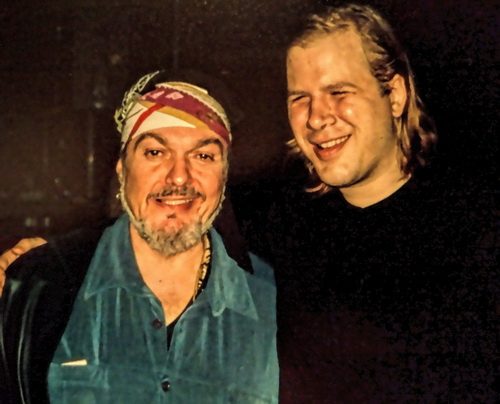 Over the years Jeff would end up performing with Dr. John a number of times. One of the most memorable was on the brilliant 'Night Music' programme. Hosted by the incredibly talented Jools Holland and David Sanborn, the show would pair up different musicians each week for a bit of a jam session and the results were never less than spectacular.
Here's Jeff sitting in with Dr. John on 'Iko,Iko', followed by the Dr. sitting in with Jeff on 'See The Light'. Enjoy…
Rest Easy Night Tripper. Thank you for all the tremendous music over the years…
Peace.
Rog