"…it was my all-time favourite Healey tune. I made him teach it to me in my parents' livingroom."
The day before Jeff left us, I sent him an email not knowing whether he would get to read it. But I wanted so bad for him to know how much of an impact he had on my life because of his generosity, spirit and passion for life.
The first time I saw Jeff, I had dragged a friend to see him on opening night of his first visit to Halifax at the Middle Deck in the mid-80s. For anyone who saw Jeff in Halifax – one of his most rabid fan bases – it will amaze them to know that we were the only two people there to witness the performance aside from the staff and two suits at the bar. We sat two feet in front of Jeff and were gob smacked as he played, ending the night dragging his guitar across the low-hanging rafters above his head. Needless to say, the place was jam packed by the weekend on word of mouth alone.
While friends of mine hung out with Jeff after shows over the next year or so, I was always content to stay away and just enjoy the music. But one night at a club called Cheers, Jeff broke a string and someone yelled out to him that I could change it. "Steve!" he called out in that rich baritone voice – and I became the guitar roadie for the night, which spilled over to an invite to hang out at the hotel with friends, over beer and an olive pizza, as I recall. Jeff showed me a stash of 78's that he had picked up that day at Taz Records, and we soon organized a visit to my place (well, my parents) the next night so he could listen to his new acquisitions.
I think my parents were somewhat quizzical as to who this musician was I brought home, but they liked the jazz tunes. Of course, Jeff gave his encyclopaedic backgrounders on each song. Then, as part of the deal, he gave me a guitar lesson – in particular, how to play his instrumental, "The Better It Gets" which is still one of my favourite tunes. He also gave me a history lesson on Freddie King's and Eric Clapton's versions of "Hideway". I talked about this night again in my last email to Jeff…
From then on, Jeff would call or leave a voicemail every time he came to town letting me know my name was on the guest list. And when I decided to run away for a year to Toronto to test my abilities as a musician, Jeff introduced me to other players and every blues jam in town. (I also got to change yet another busted string at the El Mocambo while hanging with guitar legend, Domenic Troiano as he watched Jeff play!)
That was an amazing year (1987-88) as we got to witness Jeff's career transition through the Arista signing, the first album, Road House, and everything that came afterwards. I never became a professional musician, but we remained friends right to the end. I always felt though, in some way, that I let Jeff down because he was such a generous spirit and mentor. But I would never have traded that experience for anything, and the many friends he introduced me to who are still close today.
It has been five years since we lost Jeff, yet he remains one of the most important influences and role models in my life. And there is some comfort in imagining how many other lives he has influenced and will continue to inspire.
Happy Trails, Champ!
Steve Ashton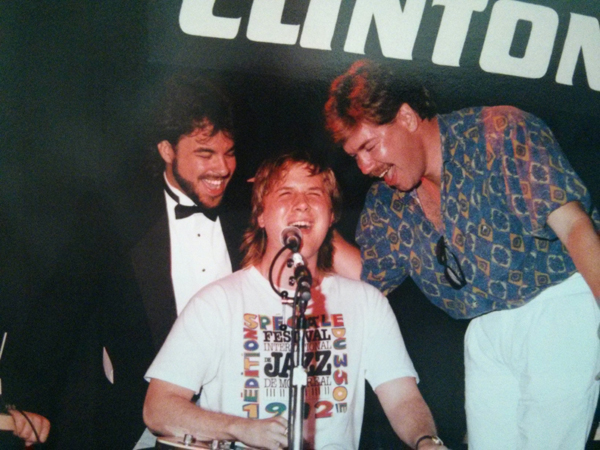 Roger Costa, Jeff and Steve Ashton beltin' out 'Happy Trails' in 1992…
PS… OK – here is a "teaser" from the Middle Deck from early '85 (I believe) – a 19-year old Jeff on his first week ever in Halifax. This was the Saturday night. "Hey, what's your name…yeah, Miss Front Row. I'm putting you in charge of catching the flying guitar picks…and occasionally flying guitars."
Apologies for the fidelity – as I recall, some guy snuck a small tape recorder in the pocket of his jacket, where it remained for the night. A good friend managed to get a hold of a copy and gave me one.
Also of noteable note is the opening bass riff by Joe – one of the coolest things I ever heard him do…
***
***
Steve Ashton may not have chosen to become a 'professional' musician, but he is a tremendous guitar player who still writes and records albums worth of material for his own enjoyment and the edification of his friends around the world. Thanks to Jeff, Steve is truly a 'brother from another mother' to me… ~Rog