Welcome all! Today, Blue Direction bassist, Jeremy Littler joins us with some memories of his friendship with Jeff Healey…
During three fateful, formative teenage years, from 1981 to 1984, Jeff Healey joined Jeremy along with Graydon Chapman, and Rob Quail to form the band Blue Direction. It was an experience Jeff would fondly carry with him throughout his life as he continued to grow as an artist, and in fame.
***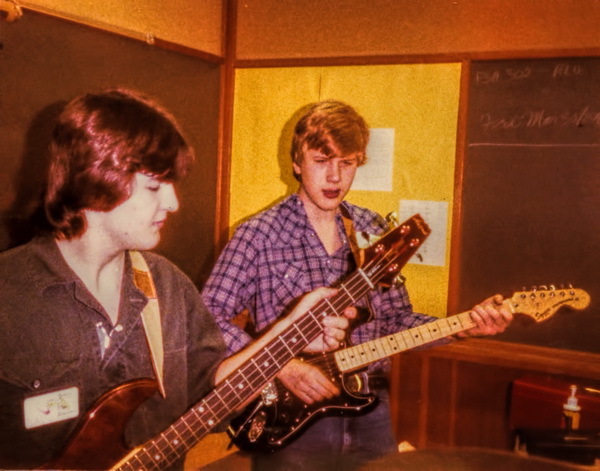 Jeremy Littler – Hanging Out With Jeff…
People still ask me about Jeff and what he was like as a band member, person, buddy etc. I'm still very protective of Jeff and company, and I am, to be honest, a bit selfish about the great memories and fun times we had. He was just a really good friend to me. His disability was invisible, except when we used it to get away with stuff. (laughing) Then it was very advantageous…
One of the reasons why I hadn't written about Jeff before, and had been initially reluctant to do so, is that it's easy to turn what was just some harmless shenanigans and youthful fun into something that is a bit too reverential. Jeff loved to stir the pot at times. Oh boy did he, and at that age I was always up for the ride as well. We got away with pranks because well, Jeff always seemed to get away with them. Jeff was indeed a great player, but that was just a part of what made being in Blue Direction so much fun. Ok, some tidbits.
I let Jeff drive my car in Oakville. He was always bugging me to let him do that. I had the "foresight" to keep a hand near the steering wheel and give out left-right instructions, but Jeff was in the driver's seat and running the whole show. Seriously, he was better than a lot of sighted drivers and the car was a manual shifter to boot. We took the curves at speed. We did not get nabbed for that stunt or injure anyone fortunately. I think the statute of limitations would have run out by now anyway. A crazy move no doubt, but it was funny as hell at the time. Imagine if we had been stopped by the police. We decided if that happened we would plead not guilty and go to court to fight the ticket!
We were totally broke one hot Ontario summer, and an underage Jeff and I decided to busk at Dundas Square in Toronto, close to where the Hard Rock Café (now long gone) would end up being. Jeff played and I kept a watchful eye on the money. When we had something like $15 we headed to Mr. Greenjeans across the street in the Eaton Centre and ordered some huge, cheap brand beer steins to cool off. Then it was rinse and repeat. It was the only time I acted as Jeff's ad hoc manager. We kept at that gig for hours, until even Jeff was too far gone to play. Such a blast. It turned out that no one would ever I.D. Jeff or his "assistants".
Some years later I was working at a summer job out in Calgary and Jeff was touring with his new band members in the Jeff Healey Band. Jeff and I got together after his show and we ended up at my parent's place watching The Holy Grail on TV. Jeff loved Monty Python. The next morning my parents asked what all the conversation was during the movie, and I told them I was describing to Jeff all of the scenes in the movie, mimicking the silly accents and all. Jeff and I literally laughed non-stop that night. My parents talked about that for years…
***
Jeremy Littler, Rob Quail & Graydon Chapman joined us a while back to share their memories of Jeff and their time together in Blue Direction. You can read all about that amazing time, HERE.
Rog
***
And for the latest Jeff Healey documentary news, please click HERE!