By the time 2004 rolled around, the 'second phase' of Jeff's career was going full steam.  'Healey's', Jeff's nightclub (which opened in 2001) had become well established as Jeff's home away from home and a rockin' hot spot in town.  Jeff was having a blast doing weekly guest spots there with the Healey's House Band and jamming with special guests… and his 'other' musical passion, traditional Jazz from the 1920's and 1930's, was in full swing as well with the establishment of the band, Jeff Healey's Jazz Wizards.
Having done a bunch of jazz session work and having produced and performed on several albums for Sensation, including his recorded jazz debut, 'Among Friends', Jeff had come to feel that the time was right to venture out with his own company.
-"… there was the Sensation label, which I did with a book publishing company. They provided all the money up front and did the printing and pressing, but they wanted to split the profits. I ended up doing a lot of work, which I don't mind, but it didn't seem fair that they should get half, so now I can do it myself and keep the profits, however small they may be." – Jeff Healey
Thus HealeyOphonic was born and quickly Jeff slated 'Adventures In Jazzland' to be its initial project…
"This is the first release from the new HealeyOphonic label and the second of a lengthy and prosperous series of albums under my direction in the genre of music I love most; traditional jazz." – JH

Remarkably, 'Adventures…' proved to be even stronger than the stunning, 'Among Friends'.  Jeff seemed more comfortable and confident and as always, Jeff put a lot of it down to the players he chose to record with.
"When I go into the studio with the musicians we only try one or two tunes at a time and then leave the floor open for suggestions.  Someone is bound to suggest something that will inspire someone else and so on. Recording sessions are lot more fun that way and you can get a lot done with inspiration."
-Jeff Healey 2004 – Chart Attack
And the inspiration was indeed bountiful. Jeff once again surrounded himself with immeasurable talents, new and old friends…
There was the then 22 year-old Drew Jurecka who Jeff referred to onstage as "the boy genius"…
"To say he is gifted and an incredible talent, is to sell him short." – JH

Drew's virtuosity has lead him to a crazy successful career doing much session work among other things.  His stellar violin is also prominently featured on Jeff's final jazz recording, the phenomenal, Juno nominated, "Last Call".
Long-time cohorts Colin Bray and Reide Kaiser were according to Jeff, "The glue holding all of these sessions together…"  – JH
Dan Levinson: "…my surrogate big brother. …Apart from the joy we derive in playing live music together", we share very eclectic tastes in recorded music.  Find me another pair of geeks who are as comfortable analyzing alternative takes of Rudy Wiedoft's Palace Trio performances as they are discussing Eric Clapton's recordings of Cross-Roads, yesterday or today." – JH

Terra Hazelton: "…our star vocalist and a young lady whose album is the second release on this label." – JH  (…the divine Ms. H's debut, 2004's 'Anybody's Baby', also produced by Jeff…)

Tom Pletcher, Vince Giordano and Marty Grosz: "The thrill I had playing with these musicians cannot be adequately described." – JH

And then there are Gary Scriven and Christopher Plock two musicians who featured prominently with Jeff and the Jazz Wizards.  Gary, a stellar drummer and good friend, and Christopher, a wonderful multi-instrumentalist and vocalist whose great stage presence and sense of fun always helped push the live jazz performances to new heights of entertainment.
***
"This is not just an album for the jazz purists though and fans of Healey's more hard-edged guitar work should give this a whirl to sample the depth and diversity of a rare and exceptional talent." – 2004 BBC Review
***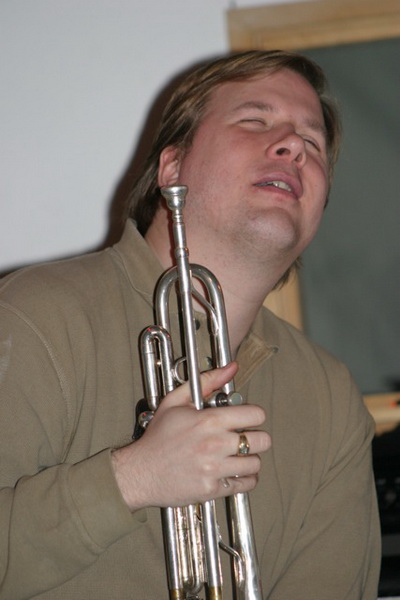 From the absolutely cookin' performance on '
I Never Knew What A Gal Could Do
' to the sweet melancholy of '
Someday Sweetheart
' to the absolutely masterful guitar work on '
Little Buttercup
',
Adventures in Jazzland
is a labour of love that definitely rates as
'essential'
Jeff Healey.  ~Rog
(…and you can buy 'Adventures In Jazzland' HERE.)
'Three Little Words':
'My Blackbirds Are Bluebirds Now':
Track Listing:
1. Bugle Call Rag
2. My Honey's Lovin' Arms
3. Emaline
4. I Never Knew What A Gal Could Do
5. If I Had You
6. Three Little Words
7. My Blackbirds Are Bluebirds Now
8. Someday Sweetheart
9. Keep Smiling At Trouble
10. Mine-All Mine
11. You're Driving Me Crazy
12. Poor Butterfly
13. You Brought A New Kind Of Love To Me
14. Indiana
15. Little Buttercup