A sad day today in the greater Jeff Healey musical family. After a brief illness, producer Joe Hardy passed away early Tuesday morning. He was only 66 years old.
In addition to a 30 year plus working relationship with ZZ Top and Billy Gibbons, legendary Ardent Studios alumnus Hardy's CV read like a who's who of musical greats – from Steve Earle to Tom Cochrane to Al Green to Ry Cooder. And in 1992, Joe co-produced the 3rd JHB record, 'Feel This'.

But more importantly, Joe Hardy was a hell of a guy.
Our dear friend, JHB co-founder and bassist Joe Rockman sent us this note today…
***
"I'm shocked and saddened by this unexpected news.

The JHB loved recording with Joe Hardy in '89 on 'The Last Temptation Of Elvis' compilation. That, and our admiration for his work with ZZ Top led us to sign him to co-produce our 3rd record at our newly built Forte Studios in Toronto.

Joe was an expert with early digital recording techniques so we were able to make full use of 48 tracks and digital's superior capabilities, especially with Jeff's multi-layered guitars and with drum edits. Joe's humorous bedside manner in the studio helped ease the recording and mixing process amidst the band's growing internal tensions.

The world of Blues/Rock has lost a brother and sonic champion who's character and special talents made a significant impact. "
***
Jeff Healey had this to say about the first time he and Joe Hardy worked together – "We happened to be in Memphis (in 1989) and a guy at our label suggested trying Hardy out. We pulled our bus up at Ardent Studios, set up our gear and recorded in about two hours. When we got the tape back, it was the best thing we'd ever done (production-wise)." – SoundCan Magazine, March 1993 (re: 'Down In The Alley' off of 'The Last Temptation Of Elvis')
Jeff was a fan of Joe Hardy's… and the feeling was mutual.
"Jeff is one of my favorite people in the world. I prefer to use present tense… Always a gentleman–almost courteous, if such a thing exists anymore–and, of course, one of the best players in rock history." Joe Hardy (2013)
***
'Live And Love' from 1992's 'Feel This' album
***
"Joe was such an important part of the life of Ardent," said veteran Ardent executive Jody Stephens. "My job in those days was to wave the flag for the studio. It was always a joy to sit down in front of A&R guys in New York or Los Angeles and play something Joe had recorded. People knew we were doing stuff in Memphis that was as good as anything being recorded in the world. And Joe's work stood out." Bob Mehr, Commercial Appeal
***
Over the years I had the very good fortune of running into Joe Hardy from time to time. There was always laughter and I was always left the better for having spent time with him…
Sending much love out to Joe's family and friends today.
Peace.

~Rog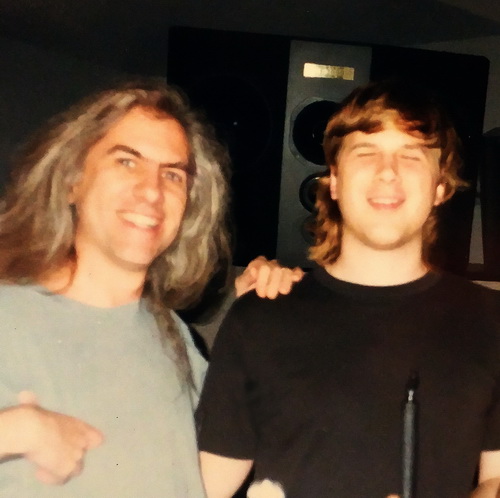 ***