Welcome everyone!
Today, Jeff would have been fifty-four years old. Starting with the sad anniversary of Jeff's passing on the 2nd and wrapping up with his birthday on the 25th, March brings with it a whirlwind of emotions.
Every year since his passing, we have gathered family, close friends and colleagues on Jeff's birthday to lift a few glasses, share some stories and especially, share some laughs. It has become an important ritual that we all look forward to each year. One of the most important reasons we do this, other than the fact that we miss him every single day, is that Jeff loved to celebrate. So, we wouldn't have it any other way…
Unfortunately, given the state of the world, this year things must be different. With ongoing covid-19 concerns, we will be respecting social distancing (and in some cases self-isolation) to keep those most vulnerable and at risk among us, safe.
Friends and family were so important to Jeff and we've been wondering how he would've been doing through this world health crisis. He would most likely be spending time amongst his records, conference chatting, playing euchre and guaranteed…….there would definitely be some chocolate cake! Yes he might've seen this as another obstacle but would realize…. we will get through this. That's how he approached life.
We will still be taking time to celebrate Jeff today; his life, his legacy, his memory… We'd like to ask you to join us in spirit. So whether you're listening to his music, raising a glass, or just chatting with friends about him, please take a moment to remember…
Happy Birthday, Jeff!!
***
We are very pleased to announce that our friends at Eagle Rock Entertainment are issuing a Deluxe Edition of the critically acclaimed 2016 archival release, Heal My Soul.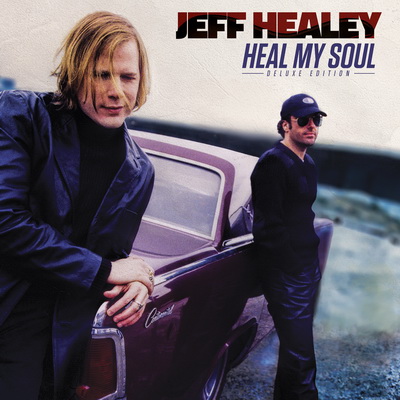 This special 2 CD set features several new mixes and revised liner notes. For the first time,Heal My Soul is paired with its award winning companion piece, Holding On! Check the official press release below…
***
EAGLE ROCK ENTERTAINMENT TO RELEASE
JEFF HEALEY
HEAL MY SOUL: DELUXE EDITION
2CD WITH COMPANION ALBUM HOLDING ON
~MAY 22, 2020~
New York, NY–On May 22, Eagle Rock Entertainment will celebrate the genius of guitarist/blues-rock vocalist Jeff Healey, with the release of a 2-disc deluxe edition of Heal My Soul. For the first time, this critically acclaimed masterpiece will be packaged with its companion album Holding On.
Originally released on what would have been Healey's 50th birthday in 2016, Heal My Soul was a "lost" album of 12 unheard songs recorded over a three-year period (from 1996-98). Written during a tumultuous period in The Jeff Healey Band's history, these songs were shelved until his estate unearthed and restored these songs after his passing in 2008. It was a big endeavor, per Roger Costa (co-administrator/ archivist of Jeff Healey's estate): they had to research the lost songs, recover two-inch masters, transfer the tracks to digital, and remix/remaster. "There were a lot of moments when everyone was getting choked up," Costa states. "It was like he was there. It was like he was never gone."
Holding On was always intended to be released as a companion to Heal My Soul – a dream that finally comes to light with this deluxe edition release. The album is a blend of five additional studio tracks and a live performance from Rockefeller Music Hall in Oslo, Norway. Accentuating the songs on Heal My Soul, Holding Onserves as the perfect complement, painting the full picture of his musical direction at this time in his career.
Live in Oslo, with Healey Band veteran guitarist Pat Rush in tow, The Jeff Healey Band tore through a set of great covers and classics. Despite having to deal with some radio interference from his wireless rig between songs, Jeff was on fire that night. Then there's the breathtaking version of Mark Knopfler's "I Think I Love You Too Much" (which Jeff originally recorded with Knopfler for 1990's Hell To Pay). The set is closed off by a great, playful 8 1/2 minute take on Jeff's signature tune, "See The Light," Jeff and Pat weaving sonic shapes that leave the audience breathless.
A Grammy nominee and JUNO Award winner, Jeff Healey amassed millions of sales worldwide with the five albums released by his Jeff Healey Band. Blind since childhood due to a rare form of eye cancer, he developed a revolutionary style of guitar playing, laying it flat like a lap-steel and fretting with all five fingers. Described by Steve Lukather as "a musician's musician," his instrumental dexterity allowed him to deftly maneuver between rock, blues, and jazz. His contributions to music lead Healey to be inducted into the Terry Fox Hall Of Fame in 2019 (an organization recognizing Canadians who made significant contributions to enrich the lives of those with physical disabilities).
A powerful collection of material from one of Healey's most creative periods, this deluxe edition of Heal My Soul is a majestic display of his unmatched virtuosity.
Track list:
CD 1
1. Daze Of The Night
2. Moodswing
3. Baby Blue
4. I Misunderstood
5. Please
6. Love In Her Eyes
7. Temptation
8. Kiss The Ground You Walk On
9. All The Saints
10. Put The Shoe On The Other Foot
11. Under A Stone
12. It's The Last Time
CD 2
1. Love Takes Time
2. Every Other Guy
3. Dancing With The Monsters
4. All That I Believe
5. CNIBlues
6. My Little Girl (live)
7. Dust My Broom (live)
8. How Blue Can You Get (live)
9. I Think I Love You Too Much (live)
10. Stuck In The Middle With You/Tequila (live)
11. Macon Georgia Blue (live)
12. I Can't Get My Hands On You (live)
13. Yer Blues (live)
14. Holding On (live)
15. See The Light (live)
***
Next up… it is so wonderful to see there are still new clips popping up online after all these years. Here's Jeff (w/ Pat Rush!) performing 'Angel Eyes', live and acoustic on the BBC programme, Pebble Mill back in 1995! (With very special thanks to Derek Timbrell for uploading this gem) Enjoy!
***
Our web store recently moved over to a new fulfillment company and unfortunately there's been some struggles to get everything up and running properly. We have been assured by the good folks at MerchInMotion however, that a solution in very nearly at hand. Thank you all for your patience. Once things are back to normal we'll pop up an announcement on the main page. And for those of you asking about new merch… stay tuned!
***
And finally today, as many of you are already aware, the JAZZ.FM91 live concert, 'My KInda Jazz: A Celebration Of Jeff Healey ' postponed due to ongoing covid-19 concerns. Read the official statement HERE.

As soon as a new date is announced, we will post up all the deets here.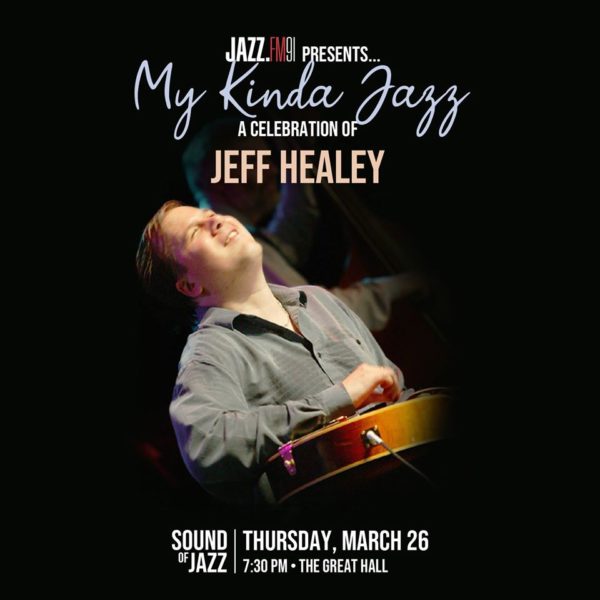 ***
And keep your eyes peeled for a couple more cool announcements in the coming months…
Which brings us to a very important part of the proceedings… All of YOU. It has been said before, but it always bears repeating. We want to send you our very heartfelt thanks for all your emails, comments, 'likes', and ongoing support. Without you, none of what we do would be possible. So Thank *You* for helping us to keep Jeff's memory and legacy alive. You guys rock.
Be excellent to each other peeps!
See you all real soon.
Cristie & Rog
#MarchIsHealeyMonth