Hello my Beautiful People!
Sorry for the quiet week here folks.  Things have been busy buzzin' away behind the scenes leading up to the European release (to be followed a few short weeks later by the North American release) of "Jeff Healey – As the Years Go Passing By: Live in Germany 1989-1995-2000".
A quick update today…
We just received the new Amazon links for the German set and we couldn't wait to share them with you! Both contain some fantastic pictures of the set (we've posted a couple for you here below the links too)…
Here's the Amazon UK link. (…and for our North American peeps, here's the US link)
The box/cover art…

and here's a peek inside the set…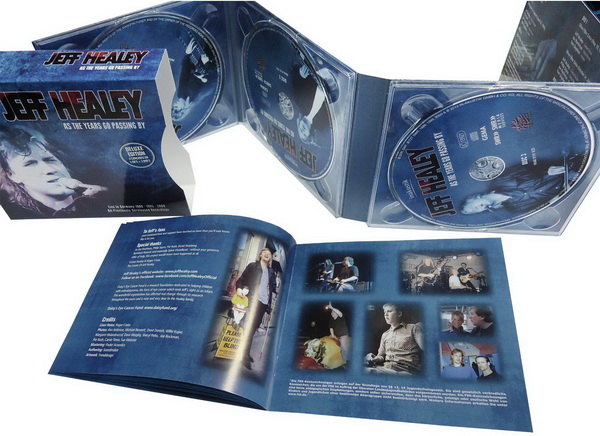 Cristie did a great interview recently with Henry Yates of Classic Rock: Blues magazine that will be excerpted for a big news piece about the set in an upcoming issue.  (more details when we have 'em)
…and stay tuned as we'll be giving some of you folks the chance to win a copies of both the 3CD set and the European Deluxe 2DVD/3CD (PAL) collection here on the site in the next couple of weeks! Keep your eyes peeled for an announcement coming soon!
***
We have received a number of inquiries lately regarding the Eagle Rock CD "House On Fire" so we felt it was a good idea to briefly address it here…
The Estate of Jeff Healey has to date, had nothing whatsoever to do with *any* Jeff Healey releases on either the Eagle Rock label, or any of their affiliates; Eagle Rock North, Convex or Conveyer. We have not been consulted nor asked to participate in any way, and in fact, only just found out about this release a few weeks ago ourselves.

***
That's about it for now.  More cool stuff winging your way next week!
Be good!
Rog