My friend Jeff Healey could play guitar like few before or after him, and in a style so singular it defied description.
And what a musician. You could throw any song at him and he would rise to the occasion – playing it like he'd written it himself, never missing a beat and playing with the soul and emotion that transcended his youth.
The fact he not only mastered the guitar, but also took it to new levels of excellence while playing it on his lap, only adds to his legend.
I remember the night we shared the stage at his club and he called for 'While My Guitar Gently Weeps', the George Harrison-penned Beatles classic that he'd recorded, and which featured the ex-Beatle in a musical cameo.
"I don't know that one Jeff," I said. He muttered out of the side of his mouth, "No problem, just watch my hands." Watch his hands? Are you kidding me? The musical shapes he'd learned playing the guitar in his unique way resembled nothing more than piano chords. But what a style.
Jeff also possessed a great sense of humour. After an evening out when I'd arranged for him to meet Jose Feliciano, the great blind acoustic guitarist and singer, we decided to head back to his club and jam. Having dipped our hands into the well a few times, we left the driving to my more sober better half and piled into the car. "Hey Healey," I said, "You want to see how blind I am?" and I removed my prescription glasses, which I then passed over the seat to him. He put them on and casually replied, "Yep, you're blind all right." We laughed and laughed.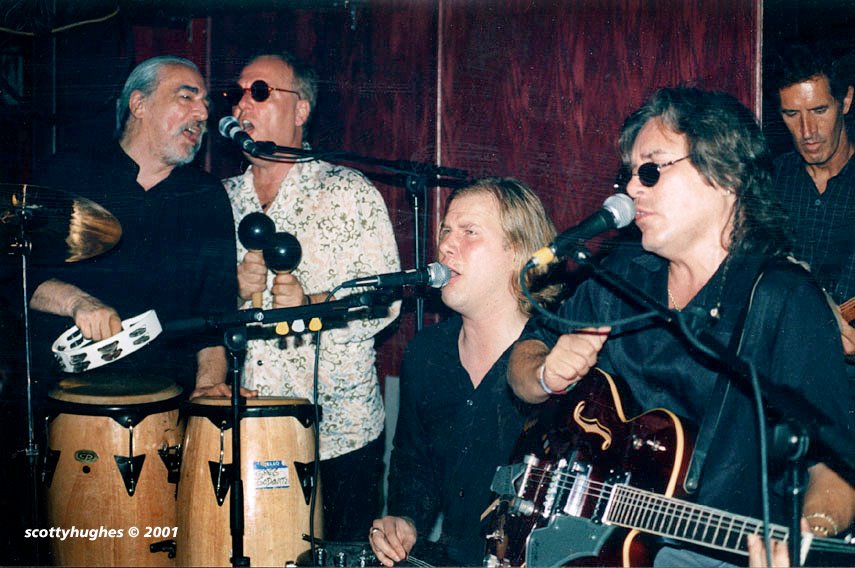 ("Bob Segarini, me, Jeff Healey and Jose Feliciano (playing my 1973 Gretsch Tennessean) caterwauling something or other at Jeff's club…")
Guitar great Steve Lukather called me from New Zealand shortly after Jeff had passed. I told Luke that Jeff saw more in people than anyone I've ever met who's gifted with sight. Steve agreed.
Greg Godovitz


(The preceding piece was originally published in a slightly different form by SunMedia on Monday March 3rd, 2008 – the day after Jeff passed – and is reprinted here with Greg's kind permission.)
Greg Godovitz is an accomplished singer/songwriter, guitarist and author. In 1975 Greg formed the band Goddo who went on to record eleven albums of eclectic hard edged rock and roll. After 38 years, Goddo continues to rock on with the original lineup…  Greg's written an autobiography, 'Travels With My Amp' which has received widespread acclaim and he's hosted a radio show called 'Rock Talk' on Toronto's Newstalk 1010 CFRB. Currently Greg lives in Calgary, Alberta where he is active on the scene producing local acts, performing live and doing session work. Greg recently finished work on his first solo album, aMuseMe, which features the talents of Paul Dean (Loverboy), Russell Broom (Jann Arden), Mike Little (George Canyon) and classical guitar virtuoso Oscar Lopez. Next year 2014 Greg will celebrate 50 years as a musician.
("aMuseMe is available on iTunes and CD copies are now available at Heritage Posters in Calgary.  Pick one up at 1502 11th AVE SW (403) 802-1846, or order online by emailing cs@heritagepostersandmusic.com  – $20 plus tax and any additional shipping costs. –Signed copies on request – Thanks for supporting Canadian music and I hope you enjoy! -Greg")
websd-greggodovitzcom.webs.com/
http://www.goddo.biz/